Yeply's mobile bike shop has expanded to Germany and is now ready to be scaled in the European markets. With this funding round, Yeply is seeking to rocket fuel its growth internationally!
Our story
Yeply is an innovative mobile bike shop that is now ready to be scaled. We offer a friendly, fast and convenient bicycle service to private customers and businesses. Our aim is bold – to revolutionize the whole bicycle service industry.
The concept has been developed for over three years in the Helsinki metropolitan area in Finland and was expanded to Hamburg, Germany this year. The current global bike maintenance market 10 billion euro and the potential in unmaintained bikes (over 100 billion euro) is waiting for us.
We make an impact. In 2019 we have serviced nearly 5,000 bikes. According to Science Direct and European Parliament this means that we have increased cycling by 1,200,000 km, saved over 200,000 euros for the society and reduced the annual greenhouse gas emissions of over 100 cars. That's quite an impact! With our passionate team, aggressive growth plan and your help, we can scale this impact to a whole new level.
Let's talk about cycling
We believe that cycling is the most enjoyable way to move around. It keeps you on the ground and is good for your health. It is good for the air you breathe and can save the whole planet. It is scientifically proven that increasing bicycling has a proven positive impact on the environment. That's why we think cycling is for everyone. Cycling is for kids and adults, men and women, joyriders, exercisers, feel-good pedalers and Sunday cruisers.
But there is a slight problem – maintaining a bike can be problematic for many bike owners. Why?
The bike shops might
be too far
be closed when needed
have long queues
The bike owners might not have enough time, skills or a suitable place to maintain their own bike.
We believe bike owners deserve better. That's why we created Yeply's mobile bike shop to solve this problem.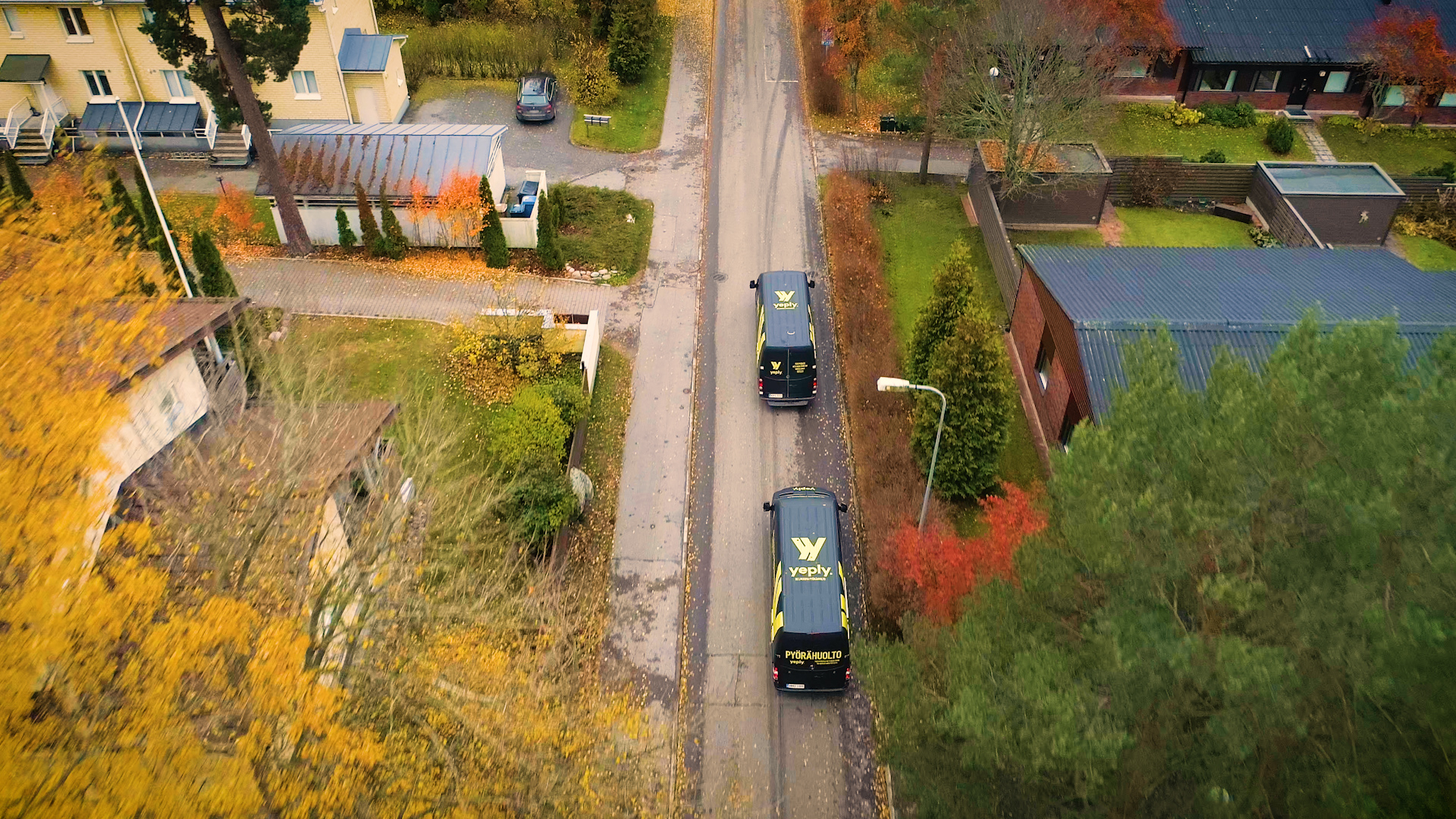 Short and intense history recap
Yeply began when two old friends –a motivated engineer and an enthusiastic designer – crossed paths in 2016. After few business case models and analysis they saw potential in servicing bikes close to the customers using a factory-like process. This led to founding Yeply and the first Yeply van was introduced to the market. Year 2017 saw a 402% growth in business and the first international pilot projects were conducted in Germany and Holland. In 2018, after having serviced nearly 6,000 bikes in the greater Helsinki metropolitan area, the concept was finally ready to be launched across markets in Europe.
During 2019 Yeply started operations in Hamburg, Germany with the third van hitting the streets in November. We learned many lessons from our first international market to finetune our market opening play book. The first franchise entrepreneur started in Helsinki. We continued to develop the Yeply Digital platform. The Finnish business revenue estimate for 2019 is 428,000 euros, which means over 42% growth from 2018 without adding any new vans. This was partly due to newly developed supporting service tent modules and improved unit revenue. We also started three new interesting co-operations during 2019: Kesko, Verkkokauppa.com and YIT. With Kesko we are bringing our bike shop to K-Markets, with Verkkokauppa.com we piloted our container based module and with YIT we bring Yeply mobile bike shop to YIT homes.
Where are we now?
Concept – Yeply concept has been developed and the customer demand proven with over 11,000 serviced bikes.
Finnish business – We operate our three own vans in the Helsinki metropolitan area.
German business – Yeply daughter company operates in Hamburg with 2 vans, with a third van starting in November.
Franschise model – Our franchise entrepreneur operates his first van in Helsinki.
Team – We have a superb team in operations in Finland and Germany with both founders working 100% for Yeply now.
This means that our concept is ready, the first international market entry is done and now we are ready to start spreading Yeply vans and multiplying our revenues.
We have a bold vision for Yeply's future and a plan to make it reality!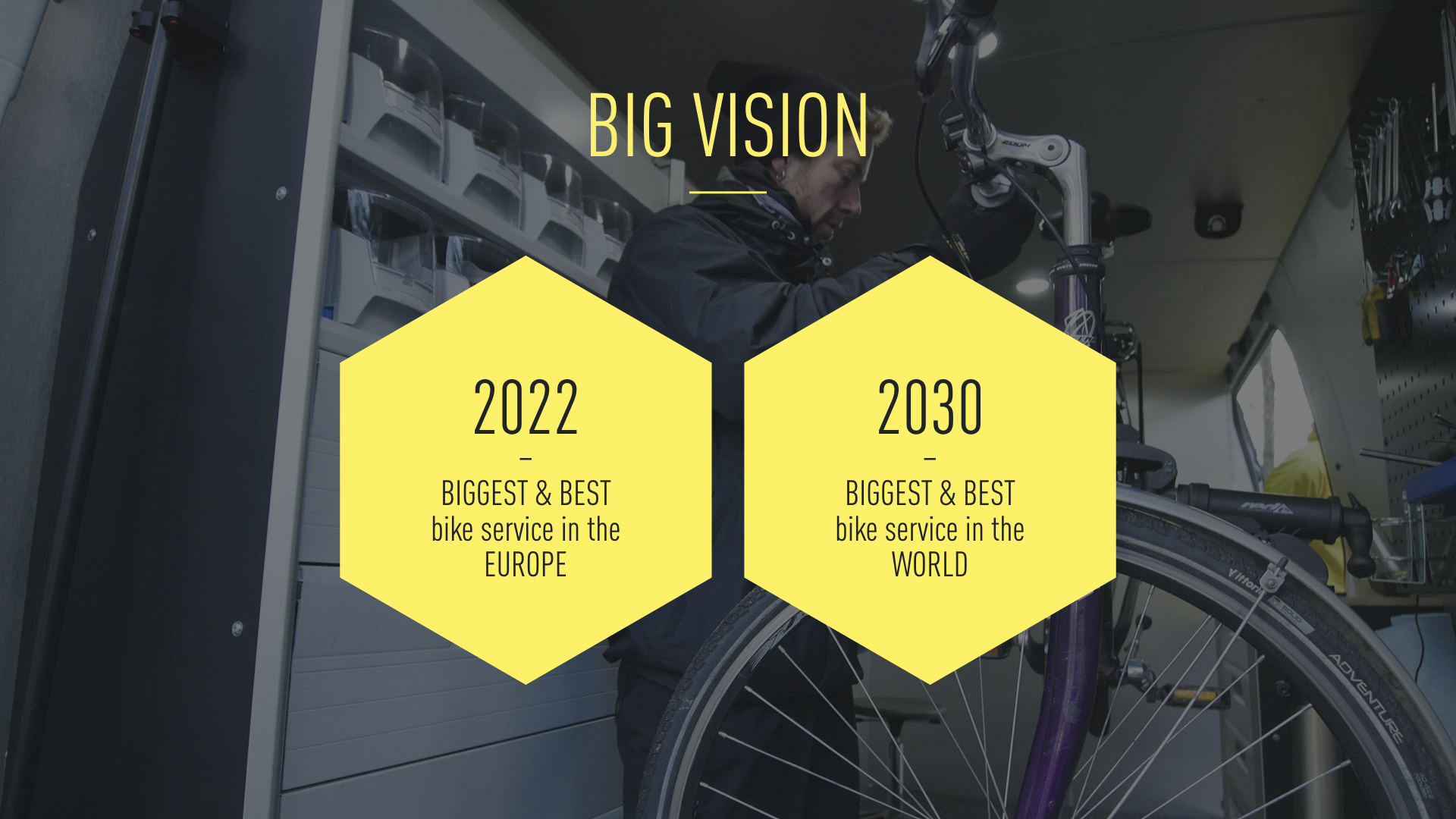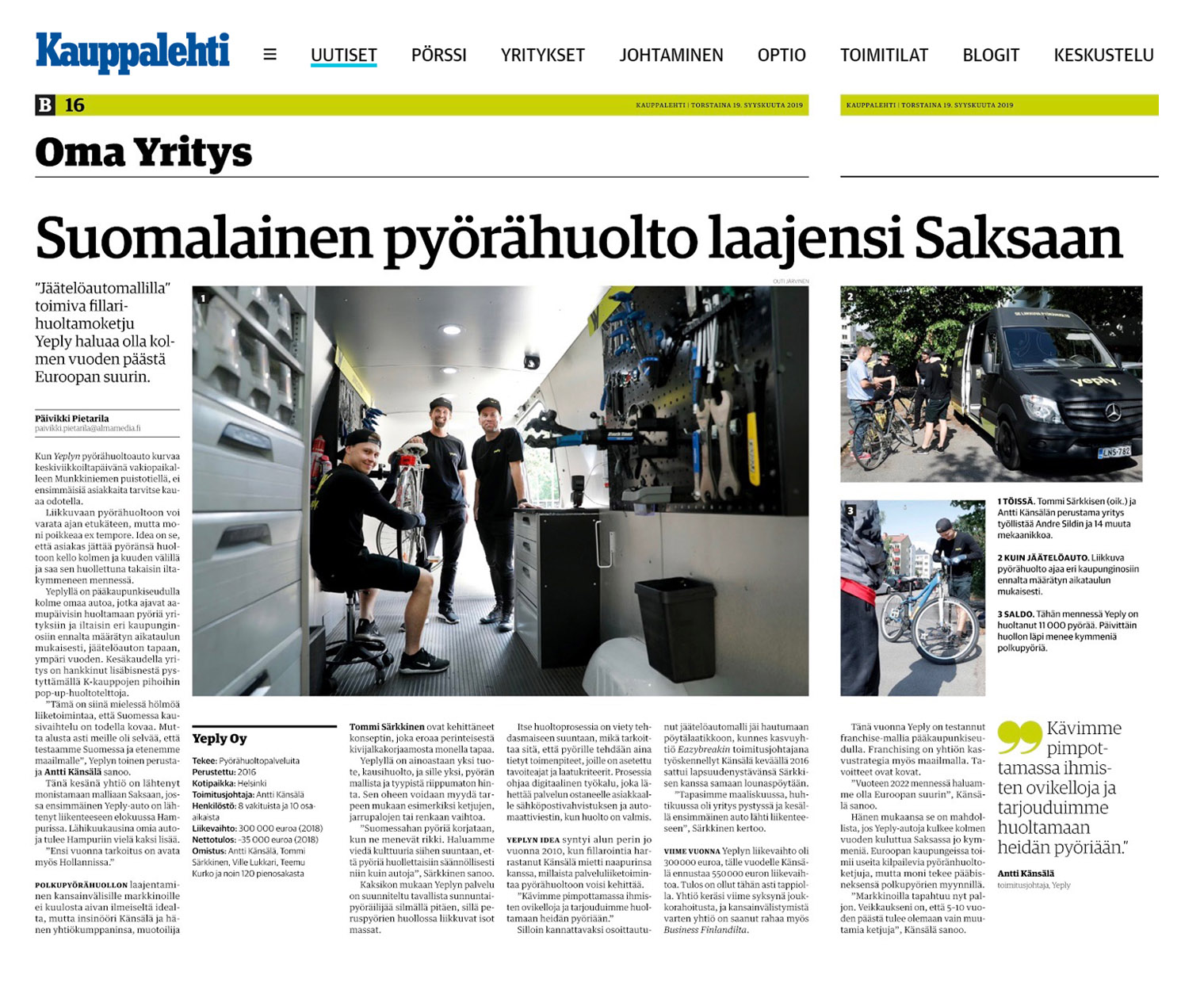 Our plan from 2020 onwards is to grow in the German market by expanding into new cities with our own operation, rapidly increasing the number of units in each city, and simultaneously starting a franchising business model. Later in 2020 we plan to open operations in the Netherlands, employing the same expansion plan as in Germany. From 2021 onwards the target is to open several new European markets and start planning our market entry to Asian or American markets. The section Use of funds describes our plan in more detail.
Why invest in Yeply?
The business is ready to be scaled in central European markets

Fully developed and operationally profitable concept, proven in Finland
First market entry to Germany implemented

An attractive growing global market boosted by megatrends
Sustainable business area that is good for the environment, society and individuals
Our investors include names like: Veli-Matti Mattila (CEO of Elisa Oyj), Pekka Rantala (HMD Global, Rovio), Tore Teir (Founder of Greenstep), Sakari Suhonen (former CEO of Efecte Oyj), Juha Valvanne (Co-founder Nosto)
A potential acquisition target for trade sale exit within the next 2-5 years