POWAU is a leading "healthy foods and lifestyle" company, which aims to triple its revenue in Finland and to become an international enterprise.
Our story
POWAU is a combination of healthy foods, cafés, yoga and health improving exercise. Our company provides in-house manufactured food and beverage products, café and lunch restaurant services accompanied with health improving exercise services. POWAU is founded on passion for nutritious food and exercise. Even the name POWAU is derived from words "Power" and "wow" – that describes us perfectly!
Powau is a Finnish growth company and we are now looking for capital to expand our company's offices and services to 17 out of 7 outlets and to improve the reach of our products by increasing retail sales through local shops. The company plans to open the first Powau outlets outside Finland in 2021.
The hectic lifestyle of modern times forces many of us to eat in a hurry and good choices are rarely available. We want to offer a better option for fast food and compromising life choices.
POWAU supports healthy life choices by offering organic, delicious, nutritious, healthy foods, cakes and snacks in our outlets and local stores.
Health and environmentally conscious, balanced food are already the mega trends of the world:
Organic and Vegan products
Gluten and Lactose free food
Environmental friendly, ecologic and animal rights supporting.
POWAU's mission is to answer to this mega trend demand and increase people's performance. Furthermore, POWAU will help keeping people's energy levels high by offering the most important meals of the day easy, nutritiously rich and environmentally friendly. When you feel good about yourself, it's easy to share your well-being and good mood around you.
The POWAU product is always the high quality and healthy choice for source of food. We manufacture our products from nutrition rich, high quality organic raw materials which will eventually keep one's hunger away longer, and energy levels higher for longer due to the high nutrient content. POWAU offers more nutritious products for the ones we are used to. Even our cakes and ice creams are made from nutrition rich ingredients, so that enjoying healthy food would be as easy as possible for our customers.
Our main products are

Company's enterprises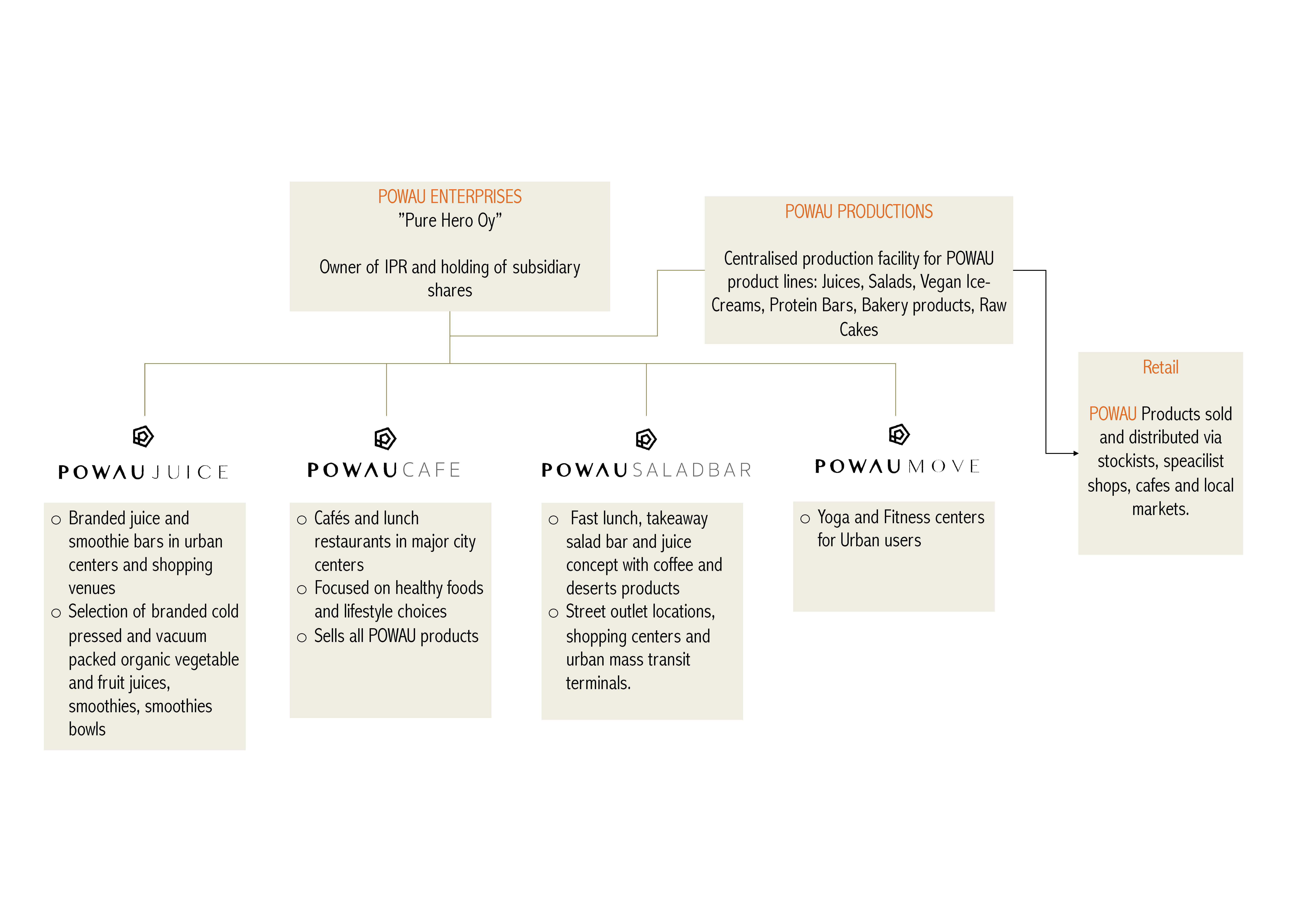 Our History
In 2013 we opened our first café, concentrating on healthy foods, called Pure Hero on Eerikinkatu in Turku, Finland. We wanted to be the first to offer nutritious raw cakes and superfood smoothies in the whole city. We ended up to be a pioneering café in whole of Finland. We chose well made, good quality salads as a loss leader that got our customers in and lowered the threshold to try and taste our more exotic raw foods nicely.
In 2014 we founded Pure Hero Oy and moved into larger quarters nearer the city center. We expanded our vision by opening our Pure Move yoga studio above the new café and the ensemble became a wellness center based on the Holistic Health idea.
In 2016 we began our cooperation with Oy Gustav Paulig Ab aka Paulig and started to operate their very first flagship café business in the heart of Helsinki City center on Aleksanterinkatu.
During the autumn of 2017, we acquired a small but very carefully constructed brand making cold pressed juices for ourselves. The brand called POWAU was about to pull the plug but we saw the potential in the brilliantly designed brand and product. This product was a perfect addition to our collection and the brand fit our ideology equally spot on.
Towards the end of 2017 we got a great opportunity, when Stockmann searched for a new kind of café company and offered POWAU business spaces from Turku and Tampere. We began to design the new cafés which were both opened in 2018. In 2017 we found ourselves a cornerstone investor which made the growth possible. At the same time we became aware of our business expanding significantly.
Because of the universal nature of the words "Pure" and "Hero" we were often confused with other companies using those same expressions. The name of our company and products was decided to change into POWAU. That name and product had been a part of us the whole time as the name of our cold pressed juices. POWAU trademark was registered with the international growth in mind.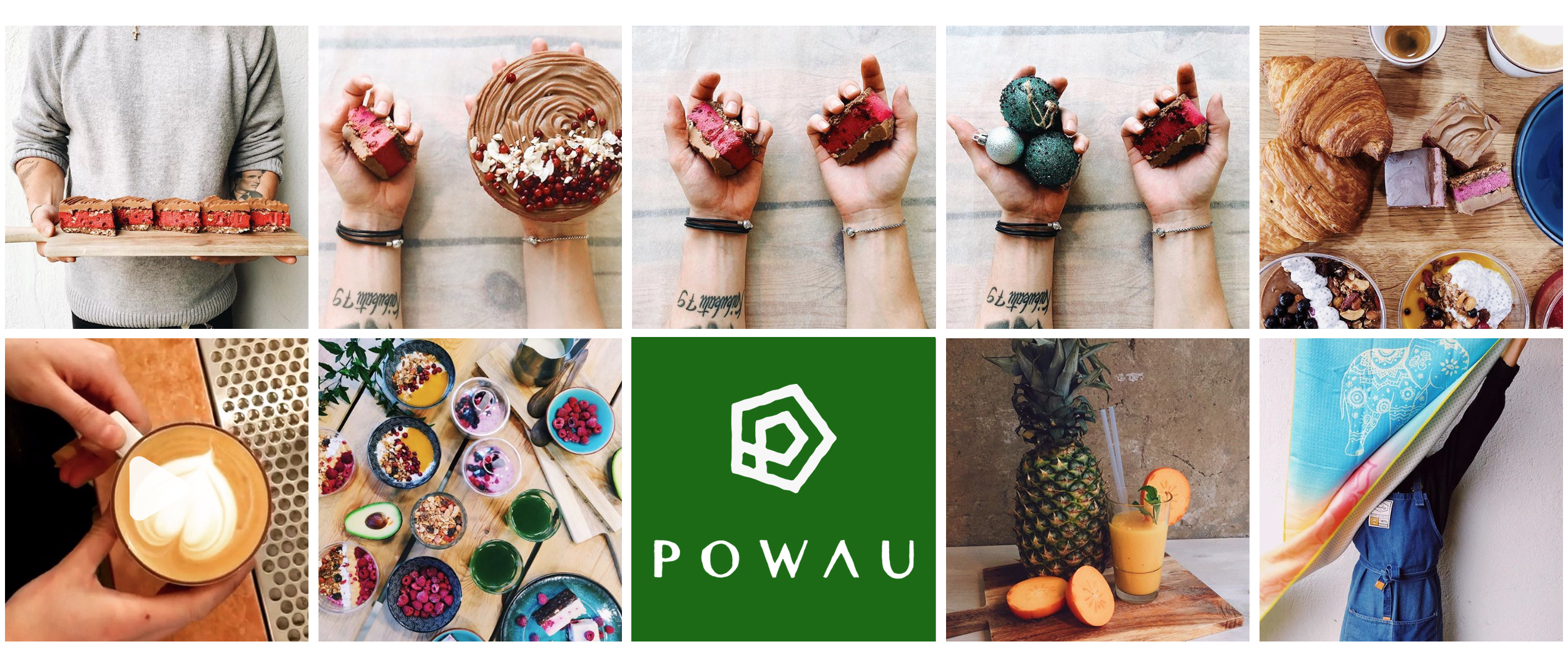 Why Invest In POWAU?
Opportunity to invest into a growth company, which is already in the vanguard of it's trade in Finland and is looking for investors for the second phase of growth.
The compound annual growth rate (CAGR) has been +35% for the last 3 years and the growth (CAGR) is predicted to be approximately +48 % during the next few years.
The business has been predicted to reach its break-even level during the summer of 2019 and the goal is to nearly triple the revenue to approximately 10 million euros by 2021.
The company builds its business on many supporting pillars: outlets and yoga studios, manufacturing our own products for both, our own retail and for local markets and stores. POWAU has a loyal customer base and premium products.
Our own original collection of recipes and production line enables us to continuously develop our products while the trends keep changing in the future.
Our trademark is registered, and our brand's value keeps growing alongside the operational side of our business.
Our cafés and outlets are situated in prime locations with reasonable leases, and the growth of our business will be planned with great consideration and care also in the future.
A scalable and potential concept with a realistic opportunity to succeed internationally.
The growth has been built on many different financiers: The founding members of the company and the cornerstone investor Sunborn / Saga Group have invested over half a million euros into the company. In addition to the established bank relations and founding investors, the company is funded and supported by Business Finland that offers funding for research and development of business's.