OneMind Dogs has a unique training method and runs a growing international dog training business in the pet market worth over $70 bn annually in the US alone. Our next step is to launch an online puppy training program for all dog owners globally.
Our story
OneMind Dogs was founded in 2012 by a group of passionate professional dog behavior experts, agility coaches and innovators. The OneMind Dogs training method was created by one of our founders, Janita Leinonen, when her Border Collie Tekla suddenly lost her hearing in 2003.
Janita had previously relied on verbal commands when training and competing with Tekla. Now, she was faced with a tough choice: stop agility training or come up with a new way to communicate with her dog.
Janita's research and experiments with subtle body language and physical signals took her into a whole new world of understanding and communicating with her dog. She learned to see training from her dog's perspective, and quickly realized that non-verbal commands were a powerful and underexplored communication tool.
Quickly this led Janita and Tekla to being recognized by everyone for their unique, silent understanding. Tekla's deafness did not put a stop to their career – instead, they went on to win several championship titles in various agility competitions.
With the help of Tekla, Janita learned to listen. Their determination and love for each other evolved into the OneMind Dogs method.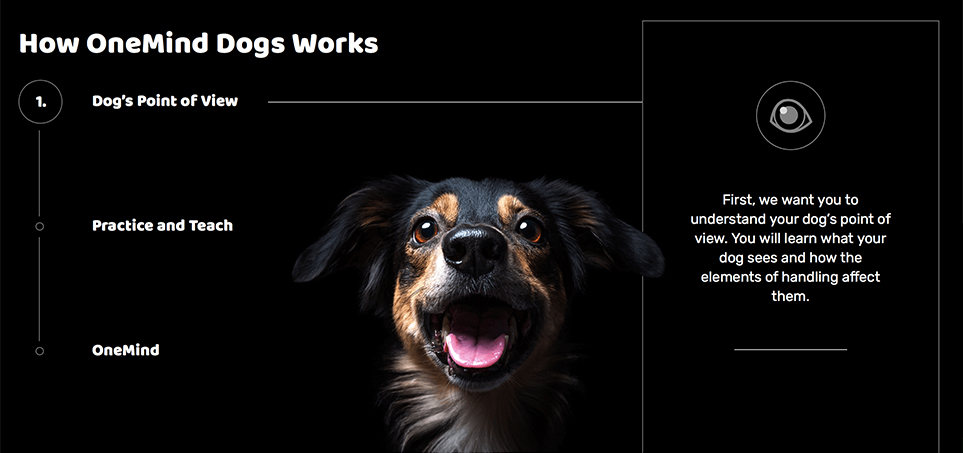 The OneMind Dogs method is based on dogs' natural behavior and point of view; what the dog sees and how the elements of handling affect it. We don't teach the OneMind Dogs method to dogs. All dogs everywhere in the world already know it. We teach it to humans – who can easily learn to "speak dog".
Over the years, OneMind Dogs has gained a loyal and devoted community in the dog agility world and the number of our members continues to grow.
We initially built our business around dog agility, the most competitive dog sport with a passionate niche following. This experience has enabled us to develop a high-quality dog training method and model for a successful subscription-based online business. We have also figured out the most effective ways to engage our audience and build a loyal customer base on a global scale.
Why Invest in OneMind Dogs?
We have a stable training business with over EUR 3M cumulative revenue. The majority (about 70%) of the revenue in our current business comes from North America where we operate through our 100% owned subsidiary OneMind Dogs Inc.
Our revenue model in the online business is subscription based, creating a more predictable revenue stream.
We have a network of over 100 coaches, instructors and trainees in 13 different countries who are ramped up to help people train their puppies to become their dream dogs.
We've already trained 100,000 dogs and 50,000 owners and have a very loyal and engaged customer base around the world.
We have our own, validated dog training method, based on science and understanding the dog's point of view.
We've hacked the code for scaling the dog training for a large audience while keeping the quality high.
Our next step is to launch an online puppy training program for all new dog owners around the world.
The market momentum for a high-quality online dog training service is now. The total number of dogs continues to boom, and so does the overall spending on dogs. More and more people are treating their dogs like children, fur babies. At the same time, dog-related behavioral problems, like dog attacks, are widely acknowledged. All this creates a huge demand for easy, accessible, fun and effective online dog training. Our solution is meeting this demand.
Our current investors include names like: Lifeline Ventures and Gorilla Ventures.
Vision & mission
Our mission is to give a happy life to dogs by helping people become amazing dog owners. We are passionate about increasing the mutual understanding between the dog and the owner, making life together more enjoyable for both. Our core values are passion, fun, and endless imagination.
Our goal is to be the global leader in puppy training. By 2022, we aim to have trained one million puppy parents as amazing dog owners.